DO YOU KNOW HOW HARMFUL YOUR HOME COULD BE?
WELLNESS BUILT INTO EVERY FEATURE
Many people spend great amounts of time striving to improve their health, but few consider the construction materials that go into their homes and how they impact their wellbeing. The fact is, harsh chemicals found in most building materials are dangerous to humans and we are constantly exposing ourselves to them, with detrimental effects to our health. Empire's commitment to the RESIDE Healthy Standard means you have a health solution built right into your home.
Empire's owner, Kevin Mullen, had never questioned the construction industry until he was face-to-face with his own health crisis. After developing an acute chemical sensitivity following the 2013 Calgary flood, Kevin had to change many things in his life to foster a healthier lifestyle. He began questioning the health impacts of the products used in the construction of homes and the potential effects on homeowners.
Since then, Empire Custom Homes has made it a mission to build the healthiest homes we can – all for the benefit of our customers, staff and tradespeople. Kevin remains passionate about the RESIDE Healthy Standard's commitment and welcomes any opportunity to speak in more detail about it, just ask him.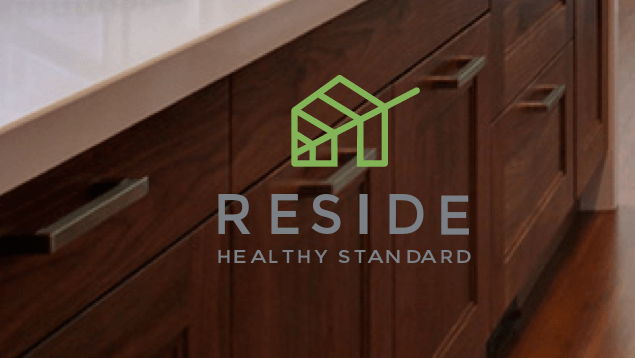 RESIDE HEALTHY STANDARD
To combat the negative health effects of harsh chemicals found in building materials, Empire adopted the RESIDE Healthy Standard. This is our commitment to going above and beyond the industry standard for sourcing clean, safe supplies for your home. We can drastically improve the wellness of your home, such as the air quality, simply by removing certain materials known to be unhealthy. Through continuous research, we're always finding products and methods that serve our mission of building a home that supports your 
long-term health.
face the facts
Volatile Organic Compounds (VOC) are affecting your Indoor Air Quality (IAQ).
Formaldehyde
Found in caulking, carpets, underlay, adhesives, pressed and composite wood products.
surfaces
Undisclosed chemicals are used on surfaces, drywall, millwork, flooring, and countertops.
silicone
Used in installation of showers, countertops 
and sinks.
adhesives
Applied in the manufacture and installation of subfloor, millwork, sinks, drywall, laminate, tile, etc.
How is an Empire Home healthy?

R
Reduction
Only materials with the lowest possible VOC content available are used.
E
ELIMINATION
Wherever possible, materials are used that contain zero VOCs and at times are able to use technology that take VOCs out of the air.
S
SELECTION
Materials are researched and selected to meet, or exceed standards set by recognized program guidelines for air quality.
I
INDOOR VENTILATION
As all toxins cannot be removed, the ventilation systems will further reduce or mitigate toxic exposure.
D
Diligence
Continual research and education drives internal processes to diligently manage the home sites, tradespeople, and suppliers to build the healthiest homes.
E
Environment
Supporting your overall long-term health while minimizing environmental impact through sustainable choices, reducing and recycling construction waste, sourcing materials regionally where possible, and using innovative construction practices.